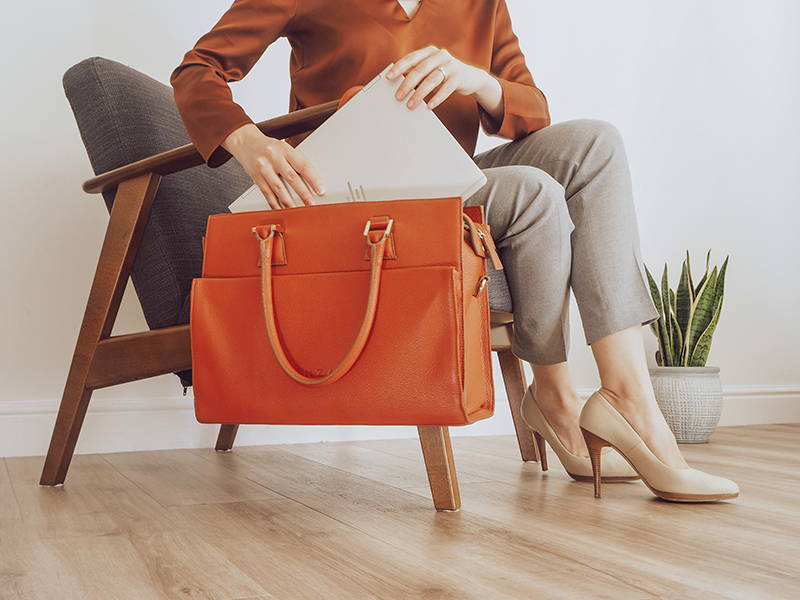 There are two types of people in this world.
The ones that get their laptop from work and the ones that spend two million years finding their perfect match.
Regardless of where you belong, one thing is for sure: with the global pandemic going on and with increased social distancing measures, your laptop has become the one thing you are most connected with. So, you might as well come clean about it: YOU ALWAYS HAVE YOUR LAPTOP WITH YOU.
You know all its features by now, and you can pretty much use it with your eyes closed (including when you get ready for those early Zoom calls). But all this talk about blended working poses a new question: what is the most practical way to keep your laptop handy for both those days worked at home as well as for the occasional day in the office?
Finding a safe house for your laptop: the modern quest of businesswomen all around
When choosing the perfect laptop bag for you, women historically had about three lousy options: a fancy bag that would definitely hurt their back, a bulky bag that wouldn't and an old tote bag that was not at all functional.
After trying on different sizes and shapes, we all gathered some much-needed wisdom on the topic. Thus the "Laptop work bag checklist" was born (repeat after us: I shall never settle for anything less than a bag that):
● is ready when you are (or a bit before if you are diligent and prepare your work bag the night before)
● fits all your work essentials and accessories (think: charger, mouse, notepad, wallet and more recently, the face mask and hand sanitizer)
● is suitable to bring to your office, but also not look out of place in a restaurant
● most importantly, securely fits your most valuable work possession: your laptop.
How to get from feeling embarrassed about your boring laptop bag to "I finally found the perfect work bag"
At AMZA - a brand created by women who were searching for the perfect work bag, go figure! - we've designed our work bags to fit our every need and most laptops.
Inspired by business women who do it all, the Evora Bag, with its two sizes, City and Travel, fits a big range of the most common work laptops. Sleek and still versatile!
We assure you that this bag knows how to multitask, just as well as you.
Which bag is a good match for your laptop & lifestyle: Find out what fits
Curious about how you can know which one fits the laptop model you have?
There are two simple ways to find out, just be prepared to answer the questions below:
1) Is your laptop one of the models below?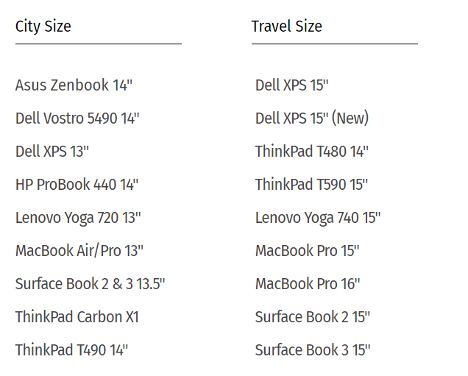 All the above fit our one of the two sizes Evora bag: City and Travel Before creating that signature bag we so love, we did our research! After all, women have a life-long affair with bags, it's not something we take lightly.
We didn't want to compromise on our commitment to solving the issues that most designer bags were failing to address in terms of a functional and feminine work bag.
Ariadna, our co-founder and former road warrior (aka management consultant) reached out to a few women networks and asked about their work laptops. She talked with around 40 women (and men) which model is their work laptop. She added all that up and sorted by frequency (told you she is a consultant, didn't we?). This is how we came up with the list you see above – which we trust has a high chance to also include yours! After adding up all the data, the ones above seem to be the most common ones.
2) You have another laptop than the ones above
No problem.
We have an easy guide to make sure your laptop will 100% fit in the special laptop sleeve of the Evora Bag. It does require a measuring tape though (pro tip: you can use your iPhone to measure it).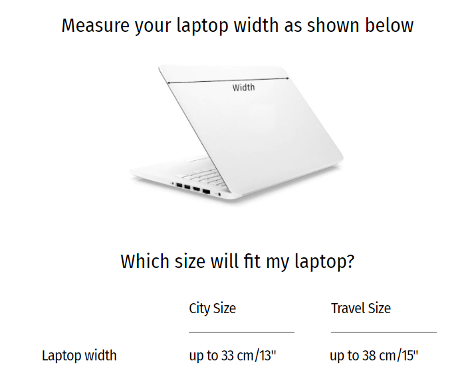 Remember, screens are measured diagonally. Reportedly it was done like this to make the size sound more impressive - a guys' thing, we're sure - scratch that, there's no place for stereotypes here!
However these days laptop screens get wider and wider, while their margins are getting thinner and thinner. That is why you might have noticed in our list of most common laptops that some newer 14" (diagonal) models will fit in the size City, while other older 14" models need a Travel.
To avoid getting confused in these details, we suggest you measure the width of our laptop, as shown in the picture above straight across from one front corner to the other, all the way to the end of any rounded edges.
If the total width is up to 33 cm (that is 13" of width, not of diagonal!) than it will fit in the laptop pocket of the City size. If the total width is above (but below the 38 cm / 15" mark) then it will better fit in the Travel size.
Needless to say, if you want to be thorough, depths have to be taken in consideration (and measurement) as well.
Is your laptop wider or thicker? No need to spend good money if it's still functional just that you can carry it to work. It will still fit in one of the Evora bags (probably in the Travel size), but outside the laptop compartment. The structured shape with high quality leather will offer it enough protection, so no need to worry about that.
3) Other things to consider
If you're going to treat yourself to a new laptop work bag, go for quality.
Here's what to look for and why:
● full-grain leather → durable and long-lasting to ensure your bag is in it for the long run
● padded sleeve for your laptop → an obvious one, but we'll leave it here: we are all focused on breaking the glass ceiling, not breaking our most trusted tool. Your laptop does not only have to fit in your work bag, it also has to be protected from the regular commuter hazards
● handles, straps, zippers → we want them sturdy, versatile and fully functional. Nothing can ruin your day and make you hate your bag like a broken zipper. Craftsmanship counts!
● compartments → go for complete top closure (for safety issues), extra pockets for cables and accessories, cards and pen holders, A4 document sleeve, adjustable trolley sleeve (can we get an Amen?!). AMZA girls won't be caught dead without these special stashing places, not to mention the matching pouch included - perfect for your passport.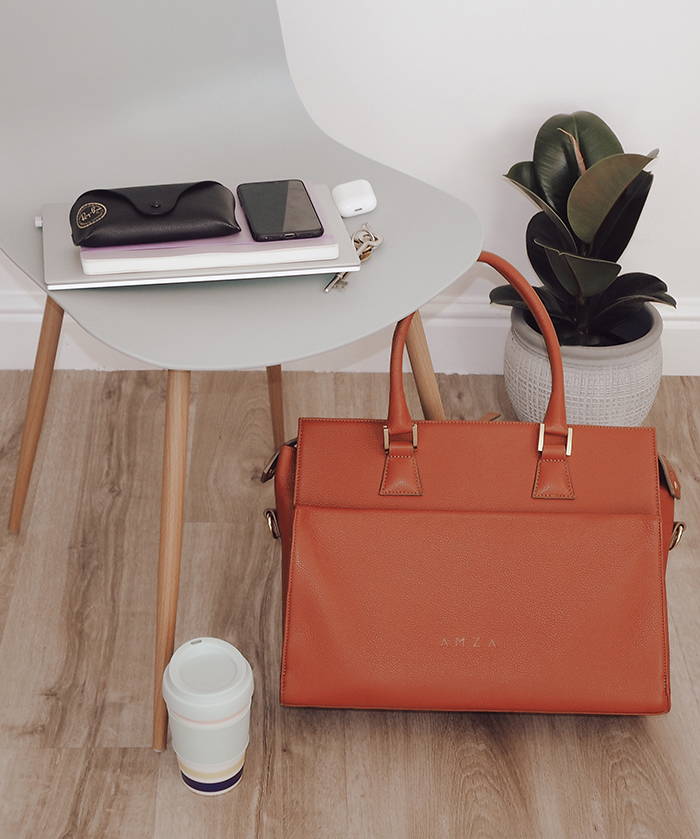 4) How attached are you to your style requirements?
We talked size. We've done the measurements. We giggled a bit.
We now know just how roomy a work bag should be in order to fit your laptop.
That leaves but one issue on our agenda: style. Can a laptop bag be fashionable? YASSSS.
A work bag is, in our mind, indestructible but still pretty. Too much to ask? Not at AMZA.
For a timeless look that can make your day, as well as every outfit, go for the black version of Evora. For a hint of novelty, go for the Terracotta edition of the same work bag. Whatever you choose, an AMZA bag is the no-remorse purse both you and your laptop were longing for!