All that talk about blended work has left us wondering for one more aspect: how should we prepare our wardrobe for such a work-life? Should we stick to our trusted leggings and keep handy the "emergency" blazer? Or should we rethink our wardrobe for this hybrid style of working?
While we know a thing or two about laptop bags, we decided to ask the real style experts about this one. Meet Lisa O'Shaughnessy!
Lisa has two decades worth of fashion experience. Source: alwaysstylish.co.uk
Lisa O'Shaughnessy is the founder of Always Stylish a personal styling company. Lisa is a successful fashion designer and personal stylist. For the past two decades, she has worked in the fashion industry—designing for brands such as Zara, Topshop, and M&S and styling busy professionals. She set up her styling agency in 2014 when after an encounter with a friend who needed styling help for an interview, she realised there was a gap in the personal styling market for someone with her extensive fashion and styling knowledge.
Since then, Always Stylish has gone from strength-to-strength styling clients, both in-person and online.
What new challenges does 2021 bring when it comes to "dressing for work?"
Dressing for work can now mean a whole multitude of things. Working from home, the office or a blend of both, these changes have invariably meant that the corporate wear has been 'casualised.' The smart or business casual trend that was already growing prior to 2020, has been accelerated due to the pandemic.
How can one address these challenges?
Whereas pre-Covid a working wardrobe quite often meant a fitted look with heels, doesn't now hit the right note for home working. So, the key is to take elements from your business wardrobe, such as blouses and wear them back with relaxed style trousers. Replace the heels with 'box fresh' white trainers or ballet flats and slippers if at home.
What are some essentials that each working woman should own this year?
It's still all about focusing on a business-ready top half. With this in mind, upgrade your knitwear, shirts, and blouses whilst making sure prints and colours are not overpowering. A relaxed, unstructured blazer that works for spring park walks and office google meets would also be a good investment, alongside a smart, practical bag like the AMZA to elevate an outfit.
Do you think we will still be talking about "the zoom blouse" in 2021?
Yes, without a doubt. Zoom is here to stay even after restrictions have been lifted.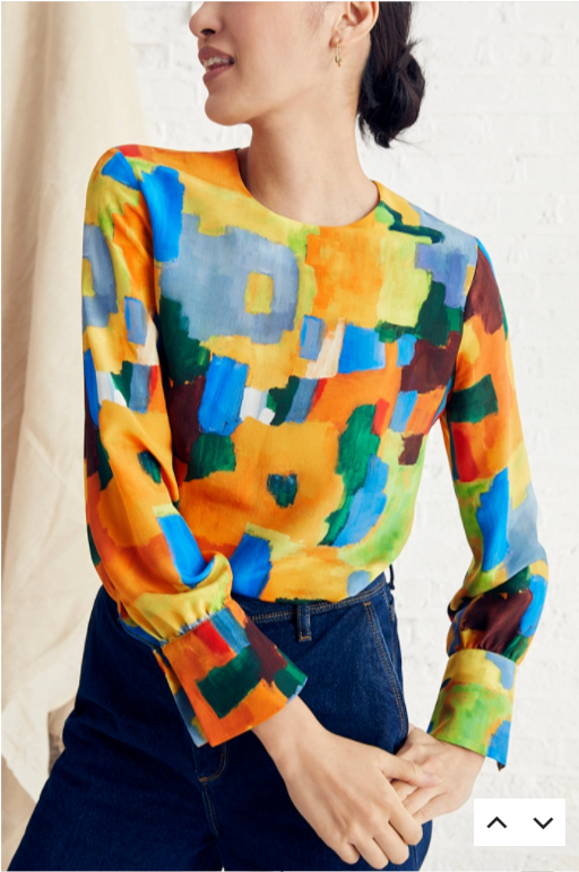 Workwear brands, such as The Fold have introduced new categories on their website for the zoom blouse. Source: thefoldlondon.com
Do you think blended work will be reflected in any way in the brands' spring collections?
Brands and retailers have moved money that would have been traditionally spent developing workwear and occasion ranges into a smart-casual product. An example of this is Reiss a brand that would have usually featured a fair number of heels and body con dresses in its workwear edit. We are now seeing a selection outfits with trainers, jogging style trousers, tops, and knitwear. The emphasis is on the smart but relaxed style.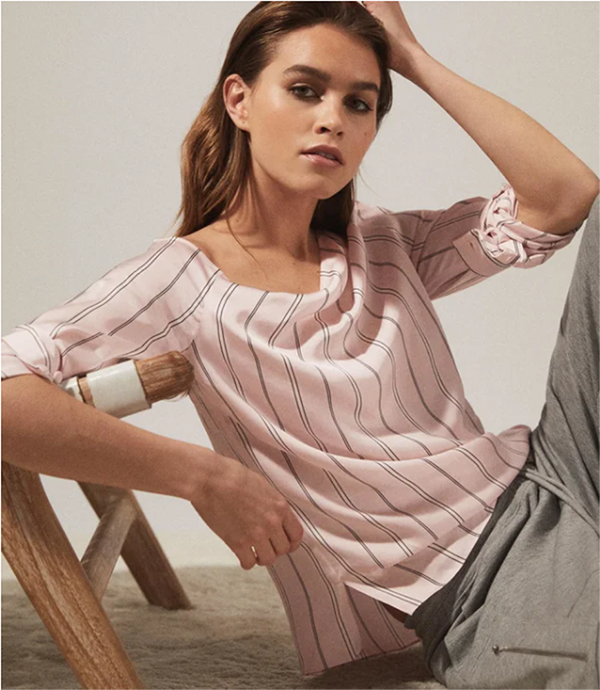 One-shoulder stripe top, excellent for zoom meetings paired down with joggers. Source: reiss.com
If you could give one piece of advice to businesswomen when it comes to their wardrobe, what would that be?
To avoid throwing on the same at home uniform every day, it can negatively impact how you feel and your productivity. Mix up casual, lounge and smart to create a variety of looks. If you find you have a dress gap as everything feels too formal, try a more relaxed dress style that can be worn at home and dressed up with a belt and heels for the office. Look at what you have in your wardrobe, research looks on social media and make a list of your gaps before hitting the online shops.
One AMZA question to finish this interview off: what is one thing you always carry in your work bag?
My initial reaction was to say masks, as I have loads of them stashed in every bag! Other than that, always a good book, I have to do a lot of tube travelling and waiting on personal styling clients and being a bookworm comes in handy.