Ladies, let's be honest.
When it comes to a proper work bag, trends like micro handbags won't cut it.
Us business women need a trusty laptop bag that is functional and chic enough to take us from the boardroom to brunch, from airports to client meetings and from pitches to Pina Coladas without breaking a sweat.
Women's Work Bag Essentials - What to Look for before Buying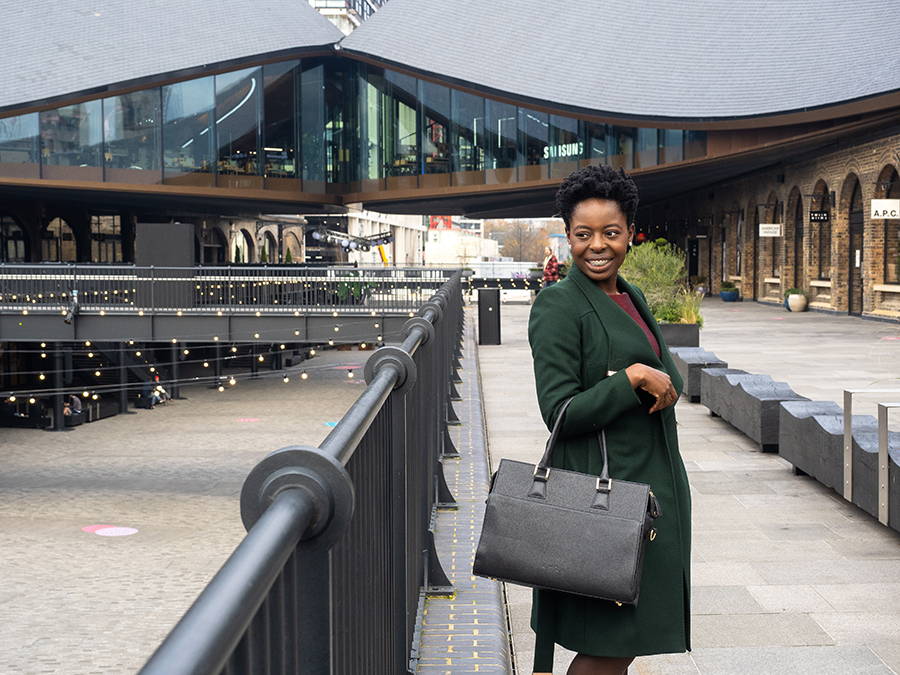 One thing all women agree on: bags completes us.
This being said, let's lay down the basics:
⇢ A good work bag shouldn't cost an arm and leg, being more expensive than your monthly income, in the same way that it shouldn't cost less than your lunch.
⇢ It should not be just a bottomless pit for your stuff. Things like features, compartments and comfort matter. A work bag needs to fit your lifestyle, wardrobe as much as your laptop.
⇢ Last but not least, it should add to your confidence, style and bring you joy and not back pain (even if you do carry around a myriad of stuff "just in case").
Here's how to choose the perfect work bag for you:
The nitty gritty: our work handbag must be smaller than a backpack but bigger than a briefcase (not to mention, way more stylish than those two, but we'll get to that later).
It needs to be spacious enough to carry all your 9 to 5 belongings, travel docs, commuting gear, water bothers and hair clips. If you think you're the only one who carries around a lot of weird stuff you can't live without, check out the "What's in your bag?" series powered by The Verge.
Back to the matter at hand: the quintessential work bag for women needs to fit a laptop. There's no work around this. All further purchasing decisions are based on this.
How to get it right: measure your laptop and buy accordingly.
For example, AMZA's Evora work bag is available in both City size (carrying most 14-inch laptops) and Travel (for most 15-inch and plus laptops) size and can be easily handled due to the trolley sleeve. Plus, these sizes make it perfect for travel, since it fits under most airplane seats.
Comfort should be number 2 on the list when shopping around for a new laptop bag. You don't want your back screaming at you at the end of the day. We get enough of that from our feet, thank you very much!
Maybe you're a fan of some urban wandering after finishing up an entire day of back to back meetings and want your bag to be as light as possible, so you can actually enjoy the stroll.
Or perhaps you always have an extra sweater because your body temperature is a few degrees below everyone else's or you need in airports where you're constantly freezing.
Whatever the case, your bag should not be a heavyweight item on its own, making it impossible to move around town with it after including all your can't live without items.
How to know what's a decent weight: most laptop bags weigh between 1kg and 2kg due the additional padding, straps, buckles, and extra pockets. Anything more than that is a pain.
Sure, some workspaces are dressier than others, but the main thing is to look for a laptop bag that fits your needs and lifestyle.
In order to seemingly switch to different workstations per week - going from working from home, to being on the road or at a new office every day - your bag needs to be as adaptable as you are.
Think about how and where you'll be using it: if you're facing airports, flights of stairs or public transport, go for one that has a strap so you can be hands-free when needed. If you're constantly travelling for work (or plan to resume this after the pandemic) you might not want to bring an extra carry-on. So you'll need a handbag that's big enough to fit some extra items that you don't want to put in your checked luggage.
Organization is key: go for bags that have internal compartments to hold your pens, business cards, and cell phone, at least. A long key leash is not just handy – it makes walking home at night a whole lot safer!
While most designs have these features, we went a step further and added a front big magnet pocket to our work bags. It's super useful for your phone, MetroCard and more since you can quickly reach for something when you need it.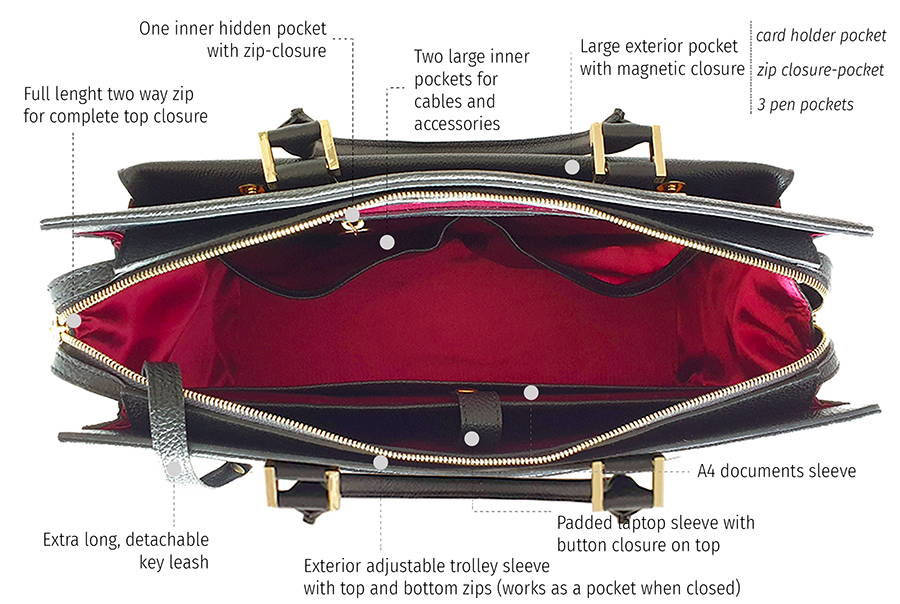 For when effortless chic is your aesthetic for 2021, treat yourself to a laptop handbag that you love seeing and using every day.
There are a lot of designs out there: tote, messenger bag, totepack, briefcase. It ultimately boils down to personal preference (and that says a lot about you, apparently), but here's the universal truth: no business woman wants a work bag that looks like a big expanded brick. Even the most utilitarian laptop bag needs some flair!
Watch out for hidden design flaws: too many laptop totes bags don't zip shut. Instead, they rely on a snap closure or just remain entirely open, thus making it easier for your belongings to fall out or for things to get in (spills or strange hands aiming for your wallet). If you're a carry-it-all person, look for inner hidden pockets with zip-closure.
The tricky part: finding a laptop bag that goes with everything in your professional wardrobe and some of your casual clothes, as well. Making the transition from conference rooms to coffee shops is always easier when you're choosing a simple design with elegant touches.
When designing the Evora bag, we wanted to create a laptop bag that looks good. Cute and functional. We didn't want to comprise either one. Also, who says work bags need to be bulky, black and boring? All the time? We added rich Terracotta to our choice of color, just in case the black feels just a tad too ... timeless.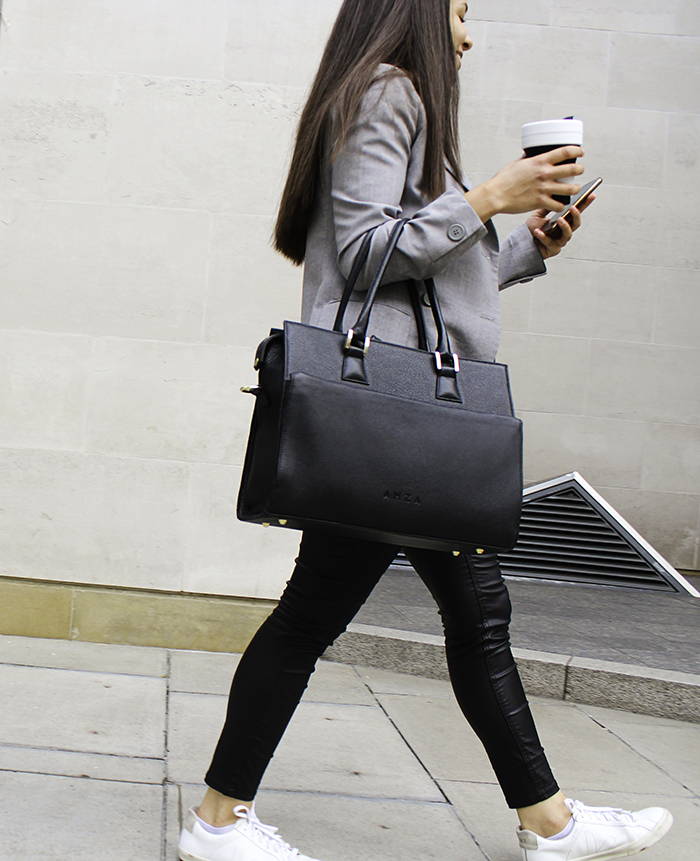 That is Latin for the super-duo that makes you forget the price tag all together.
Let's talk durability: think spill tests, the occasional fumble on a staircase (it happens to the best of us), and lifespan. Also, don't forget the extra padding needed for your laptop to keep it shock-free and prevent dings and scratches.
Soft, but sturdy: ideally, go for natural leather. That's what we did when it came down to choosing the best material for our bags. We went for 100% Italian full grain leather, specially treated to be scratch, stain and water resistant. The Evora laptop bag has a structured frame, but the leather is soft to the touch - best of both worlds!
The quality of the material speaks volumes on how long you're going to use it for. If you're willing to spend some money on a handbag, it should stand the test of time. Not to mention the fact that a well crafted handbag will add to your commitment to buy less and choose sustainable brands that share your (and our) belief in slow fashion.
How to choose: if the handbag slouches, tips or spills your things on the floor, it's not a good fit. The stitching needs to be top-notch and the leather should feel supple and refined. You don't want it ruining your delicate work attire, do you?